Storms sweep across Midwest, South; Calif. mudslide death toll at 10; Storms may have started in Asia; 1858 San Diego hurricane; Fatal highway pileups kill 3; 50-below wind chills; Alaska town's deep freeze; Storms' winds reach 124 mph; Satellites recorded swell before tsunami; Explosive fireball said to shake Earth; NASA launches comet-smashing spacecraft; Saturn close
Storms Sweep Across Midwest, South: Current watches and warnings map (Many Missouri counties under flood warnings right now) | Live satellite/radar image
Calif. Mudslide Death Toll At 10: California town warned as mudslide death toll hits 10 From Reuters: Residents and sheriff's deputies wept as the names of the 10 confirmed dead were read out. But when the names of 10 other people presumed buried were read, four of them stood up in the room to announce that they had survived.
Path Of Destruction: Torrential storm tears up Western States
West Coast Storms From Asia?: U.S. West Coast storms may have started in Asia: It's called the Madden-Julian Oscillation, or MJO for short. Quiz on Friday…
Storm Resources: Live weather and webcams for Calif., U.S. cities
San Diego Hurricane?: Two meteorologists say a hurricane hit San Diego County on Oct. 2, 1858. "If it's happened once, we know it can happen again," said Christopher Landsea, a research meteorologist with the National Oceanic and Atmospheric Administration.
Fatal Highway Pileups: Fatal highway pileups in 2 states kill at least 3: Dense fog reported near crashes in Michigan, Indiana
50-Below Wind Chills, Near-Blizzard Conditions!: Ferocious winter storm hits North Dakota: Forecasters said the storm would produce blizzard or near-blizzard conditions across western and central North Dakota. Wind chill factors were expected to drop to as low as 50 below zero Wednesday night.
Storm begins pummeling Montana: High temperatures in many areas were not expected to rise above zero until next week, with overnight lows forecast to near 30 below zero, not counting wind chills.
Power Returns To Town In Deep Freeze: Power restored to most homes in Alaska town which lost power in blizzard
Storms Kill 2, Winds Reach 124 Mph: Two motorists were killed as storms with winds up to 124 mph hit Scotland, Northern Ireland and northern England — Full story
Other Weather News: Snow closes schools in St. Paul
Tsunami Update: Satellites recorded swell before tsunami | Indonesia orders troops out by end of March
Explosive fireball said to shake Earth: Villagers in India are in a state of shock — "The noise was so loud, for a moment I thought I had turned deaf"
Space News: NASA launches comet-smashing spacecraft
From SpaceWeather.com: On Thursday, Jan. 13, Saturn will be 750 million miles from Earth — the closest we get to the ringed planet all year long. Step outside around 7:30 p.m. and look east.
Dec. 2004 WXnation Fort Worth Webcam Archive Online: Includes the images of snow, sunrise and jet below (pictures link to double-sized images). Also see the live version and entire archive…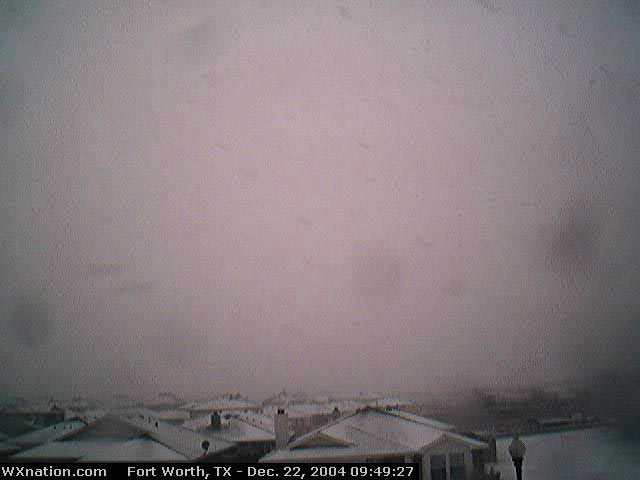 Top 5 WXnation.com city weather and webcam pages visited on Wednesday (Reno is No. 1 for the 6th straight day): 1. Reno 2. Dallas-Fort Worth 3. Toronto 4. Minneapolis 5. Chicago … See the top 20 so far this month in the center column of our home page.