Forecast miss: MLB postpones ALCS Game 2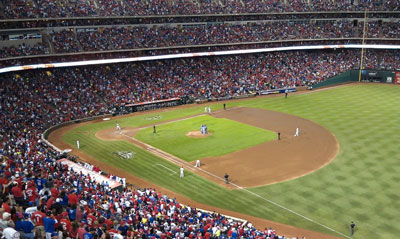 By noon, I was certain there would be baseball tonight.
As is the case on many occasions here, the rain was moving out of the Dallas-Fort Worth Metroplex well ahead of schedule and it was almost a certainty that no additional precipitation was coming. A couple of hours later, I was surprised to find out that the American League Championship Series Game 2 between the Detroit Tigers and the Texas Rangers was postponed, based partially on the forecast of more rain — at the time an 80-percent chance. As I — and at least one other local meteorologist — suspected, no rain has fallen in Arlington since early afternoon, well before the call was made to postpone the game to tomorrow afternoon. Watch the radar loop from today to see how the rain moved across North Texas.
Not a drop would have fallen for an ALCS Game 2 if it had been played. I understand that not all forecasts are home runs, but it would have been nice to have seen some off the Rangers bats tonight, and if necessary, a continuation of the game tomorrow.